Satysfkacja, means for us, first all the German Shepherd.
This is the most beautiful and wonderful breed of dog, unequaled by any other. This dog is a best friend and partner on whom you can always depend. German Shepherds are also very atractive animals who can be admired for hours. Therefore, we try to make our dogs a beautiful as they are brave in their daily work; in other words we try to make our dogs perfect.

News in our kennel you can traced at our Facebook - we encourage you to visit.
05th September 2015
JOHNNY Satysfakcja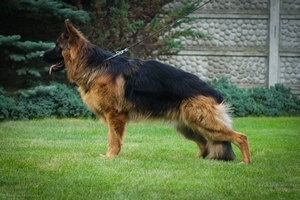 BUNDESSIEGERZUCHTSCHAU Nurnberg 2015 JKL – SG 10
Congratulation for the owner, Waldemar Stańczak.
08th June 2015
Litter "E" was born.
26th April 2015r.
XVIII Lower Silesian German Shepherd Show turned out very lucky for us. Juran Satysfakcja (f: Quoran d'Ulmental, m: Festa Satysfakcja) won the short-haired Junior Class judged by SV judge Norbert Scharschmidt. We sincerely congratulate the owner - Tomasz Kosacz. Almost as good as Juran was his brother, Johnny Satysfakcja, who took the second place in long-haired Junior Class. Huge congratulations for the owner, Waldemar Stańczak.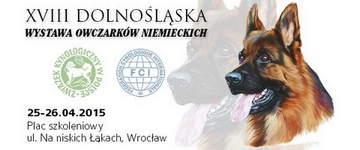 23th July 2014
We have puppies, litter "J" was born.
16th December 2013
This day was a very lucky for our kennel – puppies were born!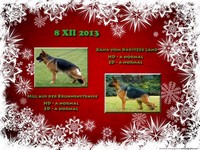 08th December 2013
What's more our female NADIA Satysfakcja won intermediate class and got CWC certificate in Nowy Dwór Mazowiecki ( Legionowo). We are very proud of her achievements.
1st June 2013
Litter "T" in our kennel was born on June 1st . There are two males and four females. Father: Conbhairean UNO, mother: XANA vom Kaditzer Land. You can check out daily news on our Facebook: FACEBOOK.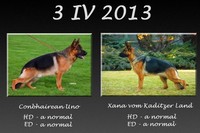 5th May 2013
Our Xana took part in Wilkinson advertisement with famous Steffen Möller.
27th March 2013
At the National Dog Show Włocławek our female Xana vom Kaditzer Land was given the CWC (CAC) certificate and now is Champion of Poland. Her son Fux Satysfakcja was also given the CWC (CAC) certificate. This dog show was really successful despite the fact it was snowing.
24th December 2012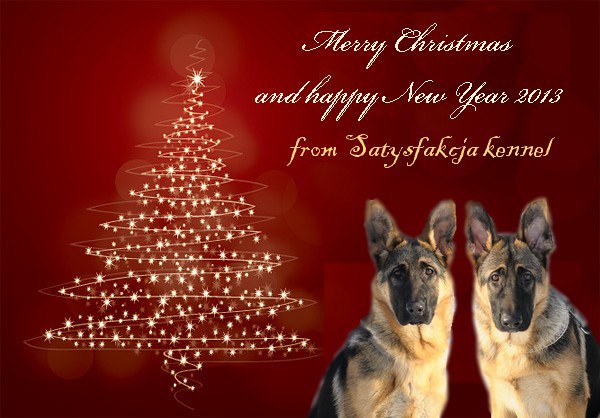 27th July 2012
Newborn litter in our kennel! Satysfakcja's N-litter. Were born four lovely girls and one boy. Parents: Yusuf vom Feuermelder and Xana vom Kaditzer Land. We are really happy! Take a look on the photos !
You can always follow our news on Facebook page: FACEBOOK.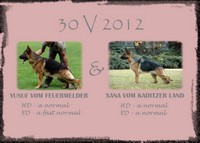 19th November 2011
The International Dog Show in Kielce we added to successful. XANA vom Kaditzer Land was Winner of working class and she gained CWC and res. CACIB. Her 6 months old son - FUKS Satysfakcja won baby class and gained Best Baby title and in finals won BIS Baby III. We are proud and happy.